Solstice June 21, 2012
The Passage of Time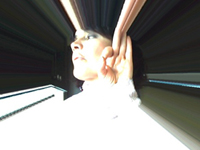 Violet Pasztor Wilson/Founder of CYA
I asked myself what would happen if I refused to stop looking at the clock and decided to live my life with the simple natural rhythm of Gaia. When to do something and when not to do something? When to wake up and when to sleep? Eat when I was hungry, drink when I was thirsty.
I contemplated and asked myself, "When did we start living moment to moment, minute to minute by the clock?" tick, tock tick tock...
The passage of time is inevitable, and we can see that in our everyday lives. Our children growing up before our eyes, our parents aging, our laugh lines getting deeper with each passing year.
I asked myself one day, on this Time-Line, in this Time Line, "What are the lessons I need to learn so that the passage is well spent? Will I be able to continue to step outside of the box, the tick tock of the clock and find rhythm instead in Nature & Cosmos?"
Another marker for us this Summer Solstice, indicating another year. Perhaps Leo will guide a greater conscious rising of the passage of time and our place in it? This could possibly be the year that the world decides to find higher, deeper Truth beyond Mankind's' clock, and tune in to the Natural timing of events that impact all of us on a Global scale.
Our Yoga is fundamental in guiding us along this path beyond space & time and Mankind's clock. The Yoga of Movement is our natural clock, the natural tic, tock that will restore, renew us and align us with the internal pulse of true Humanity.
Whoops, gotta run; I've got an appointment at GAIA!
LEARNING THE BREATH OF PEACE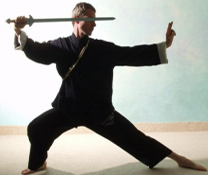 David Donnelly, Founder of Qicology Canada
www.qicology.com
Many of us can find ourselves running low on energy on a more regular basis than we'd like to admit. Some people suck it up and keep pushing on while other people may just collapse and become sick. When we push ourselves too far or even not at all, the body's systems shift out of balance. Practicing the energy enhancing exercises of Qicology (pronounced Chee-cology) stimulates vitality and rejuvenates our love for life.
Qicology is a sustainable health system that is designed to bring balance in an era of fast paced stress. In fact, our stress is so fast paced that we never have the time to process it before the next stressful incident moves in. Qicology is a mixture of Qi Kung, Yoga and Tai Chi concepts. This mixture is then Incorporated with Traditional Chinese Medicine. In TCM the human body is viewed as an ecosystem. This perception allows us a deeper understanding of ourselves within our environment. Ecosystems within ecosystems. However it is our breath that unites all of the systems together.
When we are born, our breathing is very natural but as we grow older, stress in life begins to change how we breathe. We also learn this disorder from parents and pass it on to children. We begin to react to our stresses by panic breathing which in turn throws off the adrenals affecting our heart rate and nervous systems. Even more so, we begin to increase our internal dialogue, forcing complaint into our thought patterns. Over time poor-breathing habits compound into emotional and physical disorders. Acids in the stomach increase and our bodies lose PH balance. Cancer thrives in an acidic body but cannot survive in a body with proper alkaline & acidic balance.
Increasing alkaline and decreasing acidity can also be managed by the way we breathe. When someone is running, the breath and heart rate increase and we begin to breathe shorter breaths. This is in response to an increase of lactic acid in the muscles. Learning how to slow and deepen the breath will keep lactic acid levels low.
The relationship between the breath and our movement is the main focus of awareness. We have the ability to manage the pressure in our body by conscious breathing. Whether you are gardening, vacuuming, plumbing, working construction or just standing all day, you have the ability to influence how you feel. All proper ergonomics focus on breathing properly when moving or lifting. Someone can easily put their back out or give themselves a hernia simply by breathing improperly while lifting a heavy object. Even turning to look over your shoulder while driving can pinch a nerve in the neck if you are breathing incorrectly. Over 70% of our muscles are created to participate in the breathing process and yet most people only use about 5%. Even the Asthma Society would have better results if they distributed proper breathing literature to educate those that are suffering.
All in all, a simple analogy to remember when breathing is the 'Breathing Vacuum Cleaner'. A motor is required for the vacuum to work properly; the bag that collects the dirt is just that. People tend to breathe with the "bag" so to speak, rather than the motor (our belly). Thus, we create our own stress with every breath we take. The belly must act as a pump for the breath and allow the lungs to fill involuntarily. Breathing with the belly and diaphragm will increase energy and reduce stress. With every breath that applies the diaphragm we reset our adrenals. The diaphragm will press down on the adrenal glands about 2cm and will then massage and stimulate the adrenals. Over time adrenal flow begins to re-balance itself. Would it not be in every ones' best interest to learn to practice the one thing that we do the most and to do it correctly? Especially when our entire well- being is affected? Just imagine what our world would be like if everyone took responsibility for their own health and learned how to actually manage their own stress?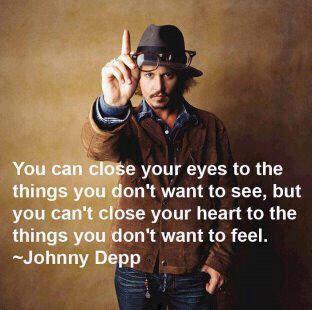 LIVING YAMAS DURING SUMMER SOLSTICE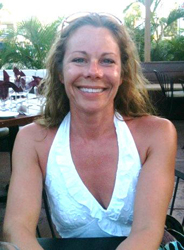 Melanie Dawn CYA-RYT200
Sanghayoga.ca
Summer Solstice is traditionally a time for celebration and festivities. It's a time for us to enjoy warm weather, and fresh crops. We're outdoors playing in our gardens, lakes and rivers. We see flowers and trees bloom, hear birds singing to wake us. We feed our souls with music festivals and socializing. Our energy is heightened; radiant smiles and laughter permeate everything. Show your style and reveal your individual self-expression best by bringing in more happiness and playfulness everywhere you go. The Yamas of the Yoga Sutras teach us how to be more authentic; opening us up to new possibilities, new ways of thinking and living our full potential.
The first Yama is Ahimsa meaning Non-violence. Ahimsa is derived from the particle 'a' meaning 'not', and the noun 'himsa' meaning killing or violence. A Yogi believes that to do harm, kill, or destroy anything living is abusing creation. Violence arises from fears, ignorance, and weakness in mind or restlessness. Gaining freedom from fear is required to curb this view and re-orientate our mind. Thoughts turn into words which turn into actions. Bringing awareness and contemplation to Ahimsa, we can cultivate and attain a positive inner dialogue; one in which unfriendly thoughts turn into calm, peaceful and kind ones. Our new peaceful, loving and caring actions show on the surface, outwardly through words and gestures, the transformation occurring inside of us.
B.K.S. Iyengar tells us: "The Yogi knows that to love a person whilst fighting the evil in him is the right course to follow. The battle is won because he fights it with love." Sit in stillness during your warm days to reflect on the meaning of Ahimsa, where it may need nurturing in your life. Practice Ahimsa first toward yourself and then to include all living beings, plants, animals, nature, our Earth in this same fashion.
Throughout Summer Solstice greet the sun, relish in the light, bring love to everything you do, and allow for Ahimsa to pervade your thoughts, actions and relationships. Give yourself the gift of time to breathe in quietness and consider the love that abounds all around us. Do yourself this service and you'll find your summer flows with ease and grace, just as it should! Let Summer Solstice be a time of stirring and arousing your true Self, sharing your love and joy with others.
UPCOMING TRAINING PROGRAMS:
YOGA-QIGONG Therapist Training* AUGUST 1–AUGUST 31, 2012 Quzhou, Zhejiang, China - You will gain in-depth practical and theoretical knowledge of the key disciplines of Yoga Therapy and Qiqong practice. You will be able to apply the combined benefits of the age-rooted traditions of Yoga Therapy, Ayurveda practices and Traditional Chinese Medicine.
The Curriculum of 350hr Therapist Training is eligible for both RYT-500 upgrade and also Yoga Therapist recognition by the International Yoga Therapist Association.
Location: Hot Yoga Wellness Yoga-Qigong Training Centre in China- a great resort on a clear lake, the best of service and safe with fantastic scenery and hiking.
Sujun Chen, Founder of Hot Yoga Wellness International, Course Director,RYT-200,CYA-E-RYT-500, Registere Yoga Therapist, Qiqong practitioner and instructor, brings a wealth of knowledge on both yoga therapist practices and Qiqong techniques. But above all, Sujun sincerely wishes to help everyone around her to achieve better health and well-being. She started the Hot Yoga Wellness Teacher Training Program (CYA-RYS) which has since graduated many yoga instructors. Please contact Sujun Chen at sujun@hotyogawellness.com
Heat to Heal's Your Journey to Wellness 200 & 500 Hour Yoga Teacher Intensive Training & Retreat SPECIAL OFFERING - 24 August – 23 September 2012
This special training includes Heat to Heal's Ten Day Lifestyle Management Module, Heat to Heal Module 3 Learning, Teaching, and working in Yoga, with selected sections ofboth Modules 1 (Philosophy) & 2 (Anatomy) to ensure you receive all youneed for your 500-hour training. Choose either certificate programme from Heat to Heal: Lifestyle Management or Teacher Education Focus. This training is also open to 200-hour level students looking for an intensive experience. Cost: 500 Hour $3,150.00; 200 Hour $2,475.00 + HST. Lodging Available. Work-study scholarships available. Please see heattoheal.com for more information or email info@heattoheal.com.
YOGA FOR KIDS WITH LEARNING DISABILITIES: JANUARY 2013, CYA West Coast Retreat Liaison /HEAT TO HEAL Retreat Centre, Qualicum, Vancouver Island - Craig Hanauer is a New York State Certified Creative Arts Therapist, a Kripalu Certified Yoga Teacher, and a Yoga Alliance 500-Hour Registered Yoga Teacher. Committed to the health and empowerment of children, Craig has developed "Every Kid's Yoga", a unique and successful program for children with special needs that integrates the creative arts, yoga, and play. He specializes in training yoga teachers, special educators, occupational therapists and parents in this therapeutic and fun-filled approach to working with kids. Craig maintains faculty positions at Kripalu Center for Yoga and Health and The Parkside School, a non-public special education elementary school located on New York's Upper West Side, and is developing yoga-related products and materials for special educators and parents.
FENG SHUI PRACTIONER PROGRAM: MAY 2013, CYA West Coast Retreat Liaison HEAT TO HEAL Retreat Centre, Qualicum, Vancouver Island - Sharon Hay is an author, Senior Certified Feng Shui Practitioner, the founder and Director of the Canadian Schools of Feng Shui and an approved Education Provider with the Real Estate Council of Ontario.
Sharon Hay has over 12 years experience consulting numerous businesses and in private residences. She has worked with such companies as the TD Bank, Telus, Four Seasons Hotel, Novotel, Stitches, the Law Society of Upper Canada and IKEA. Her articles have been in the Toronto Star, Toronto Sun, the National Post, Metro News, World Journal, and the Globe and Mail newspapers and various magazines. She has been a guest on CFRB Radio and various television shows including CITY TV, CH@Home and CBC's nationally acclaimed decorating show "Steven and Chris".
Sharon's expertise continuously helps numerous individuals and organizations create positive results at home and work.
If you are interested in any of these up-coming programs, for more information please contact violet.cya@gmail.com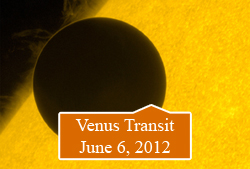 For those of you that didn't know, Venus transited in front of the sun June 6, 2012 and we were able to view this spectacular event from earth. This rare event happened twice in the twenty-first century, the last time being in 2004. The next transit will not occur in our life-time, 2117.
SUMMER SOLSTICE
June 21 is the 172nd day of the year (173rd in leap years) in the Gregorian calendar. There are 193 days remaining until the end of the year. On non-leap years (until 2039), this day marks the summer solstice in the northern hemisphere and the winter solstice in the southern hemisphere, and is the day of the year with the most hours of daylight in the northern hemisphere and the least hours of daylight in the southern hemisphere.
During this period of time, the Sun moves into the Constellation of Leo (the Lion)
ASTROLOGICAL LEO

Modality: Fixed
Element: Fire
Ruler: The Sun
Season: Summer
5th Sign of the Zodiac
Metal: Gold
Stone: Ruby
Color: Orange, Gold
Anatomy: The Heart
Keywords: magnanimous, generous, hospitable, caring, warm, authoritative, active, open. Leo the Lion the majestic lion, the King of the Beasts, is Leo's symbol. Throughout history, the lion has symbolized sovereignty, rulership, and courage. "The lion's size and strength have captured human imagination since ancient times.
Leos, like lions, are thought to be strong leaders. They generally have a regal quality to them, and possess a noble manner that is hard to miss.
The glyph for Leo represents the mane of the lion.