SPIRITUAL ESTRUS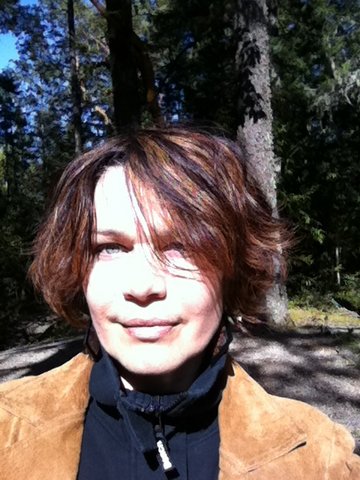 Violet Pasztor Wilson/Founder & President of CYA
I will begin again. We start over. But what is it that truly inspires us to be motivated to create? What inspires us to practice? What inspires us to teach? What inspires us to keep moving forward?
There is a wonderful creative force that inspires Estrus. That provokes the continuous cycle of evolution, propagation and re-birth. Is it simply 'Female'?
Estrus comprises the recurring physiologic changes that are induced by reproductive hormones in most mammalian therian females (Wikipedia).
Could we then ask; is this Spiritual Estrus a Female Universal Energy that exists in the Cosmos and is prevalent through-out the Universes of Creation?
I say, "Oh Female Nature that we experience in the Spring Time! We are all Blessed to see your Spiritual Estrus prevalent as the gray days of winter fade and the Light of Spring returns"
I suppose I could give an essay on The Big Bang theory, but we both know that it's not necessary to make commentary on that to prove that something mysterious exists in the Universe that gives rise to a special spiritual Estrus.
The term spirituality lacks a definitive definition although social scientists have defined spirituality as the search for "the sacred," where "the sacred" is broadly defined as that which is set apart from the ordinary and worthy of veneration. (Wikipedia)
This Spring, elect to take some time in Nature, do some FOREST BATHING * Read the article below by my good friend, Jim Rowsell (Biologist). Take your practice outside. Look around and take note of the Earth coming into bloom. Express gratitude for the Spiritual Estrus of the day, of the hour of your creative nature.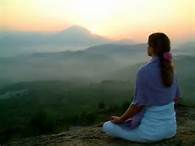 FOREST BATHING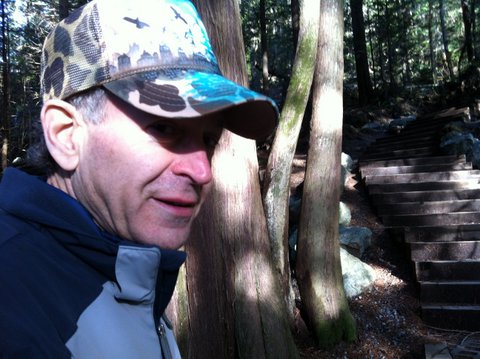 Jim Rowsell, Environmental Biologist
This column is a tribute to the forces of nature which express themselves at this time of the year on a small planet which has a peculiar tilt. The vernal equinox heralds the return of plant and forest growth with a host of spinoff effects and benefits in the northern hemisphere.
It may seem odd to write an article using scientific reasons to justify why people should go out and enjoy walking in a forest, but that's mostly what this article is about. As a self-professed pseudo-scientist, my aim is to explore this and other topics on the biology of our times. I have taken liberties to summarize information from various sources, admittedly without much input of my own. The exploration will be admittedly brief, biased and incomplete.
This article is intended to take a mainly scientific viewpoint. Science is like fishing. You throw out a line, guessing there might be something there but not really knowing – it could be a leviathan or a big trout – more likely it's a smallmouth bass. Then you reel it in. So, after all it's only a crappie or a sunfish. Maybe that's all that's here. So what? So, then you test out this hypothesis – you experiment by throwing your line in again, maybe with a different lure. Eventually you can draw some sort of conclusion (you "real" it in). What you conclude may very well not be the last word to be said on the matter. Other fishermen might be luckier or more skilled than you and might come to other conclusions about just what's out there. So today, let's cast a hook into the forest and see what comes up.
So what is the connection between forests and bathing? – these two words don't seem to belong together. First let me indulge in a metaphorical digression. In Hindu legend (Kuchli 2009), the sacred Ganges River originated not on earth but in heaven, emanating from Vishnu's toe. Later on the many nasty sons of King Sagara were said to have disturbed the sage Kapila while he was meditating. Kapila turned the sons into ashes with a glance. Saint Bhagiratha then prayed for the Ganges to be brought down to earth so its waters could cleanse the ashes. The river goddess Ganga, furious at being displaced from heaven, stormed through the gorges of the Himalayas and onto the plain where she unleashed a torrent of flood and destruction. In a benevolent move, anxious to rescue the earth, Siva caught the turbulent river on his brow and stilled Ganga's fury in his matted locks. Those locks are the forests that blanket the slopes of the Himalayas. These forests have allowed people to bathe in the sacred Ganges to this day. OK, so maybe that's not an explanation of what forest bathing is… In any case, many people have forgotten the benefits of those forests and are cutting them down, giving Siva an unwanted haircut. And our times are afloat in muddy waters. From a scientific viewpoint, forest bathing is a bit of muddy situation too.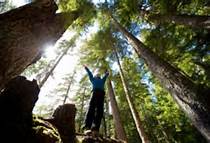 I first heard the term "forest bathing" in a recent episode of Big Ideas on TV Ontario (Gibson 2012) where author Graeme Gibson was talking about the post-modern conundrum which is that the more connected we get, the more we immerse ourselves in technology and information and live in the concrete jungle, the less we are in touch with nature and the more we suffer for it. Forest bathing seems to have come about as a translation from the Japanese term "shinrin-yoku" which relates to ancient Shinto and Buddhist practices to let nature enter your body through all five senses. As an aside, Gibson remarks that nature-based religions like Shinto tend to avoid dogma and stress experiential, emotional and spiritual strategies for subduing the intellect. Forest bathing is above all, an experiential thing.
Forest bathing is simply the process of spending time in a forest or park, with some conditions of being receptive, unrushed, and minimally preoccupied. The effect and/or goal of forest bathing is the amelioration of mood and gaining of other less obvious benefits which I'll discuss below. Probably all of us have had feelings of being refreshed by taking a time-out in the forest or some other natural setting. Sometimes these feelings can be invoked by even looking at pictures of natural settings. Nothing new here. But is this a real, measurable phenomenon; if so, how does it operate and to what extent; and, what sort of implications are there for us?
There are numerous references and comments on forest bathing in the literature. Even the Yoga International newsletter (Fall 2012) commented, recommending doing yoga in forest settings. I've picked and chosen information from several dozen web sites and a few books in putting this together but there's lots more information out there.
Incorporating forest bathing trips into a good lifestyle was first proposed in 1982 by the Forest Agency of Japan. It has now become a recognized, big-time relaxation and/or stress management activity in Japan (Wikipedia: see article on Forest bathing). It has been remarked that nearly a quarter of the Japanese population partake of forest bathing in some way. Between 2.5 million and five million visitors walk officially designated Forest Therapy Roads and visit the Forest Therapy Bases each year. Guidelines for a candidate forest include areas with a tree canopy cover of more than 10 per cent and area of more than 0.5 ha. Japanese experts provide the following guidelines for forest bathing:
It's not important to do heavy physical exercise
Enjoy the forest through the five senses: the sounds of a stream or bird song, green colour, fragrance of the forest, taste of foods from the forest and just touch the trees
Plan your daily physical activity and do not get tired during forest bathing
For half- to whole-day forest stays, spend 2 to 4 hours and walk between 2.5 and 5 km
If you feel tired, take a rest anywhere and anytime
If you feel thirsty, you can drink water/tea anywhere and anytime
Find a place in the forest you like; sit for a while and read or enjoy the beautiful scenery
So what is the nature of this effect? Various studies have explored this, ranging from partially anecdotal observations to quite a few full-fledged experiments. The effects range from lower illness rates in prisoners whose cells face the countryside (as opposed to the prison yard or buildings), to physiological, immune system and cognitive and psychological effects. Some studies show forest bathing increases the attention spans of children, including those with ADHD, and shortens the healing process for post-operative adults. I'll discuss some of these below.
One study examined 280 healthy people in Japan, half of whom were instructed to walk through a forest or wooded area for a few hours while others walked through a city area (Park et al 2010). The next day they traded places. Scientists found that after the sessions of forest bathing, participants had lower pulse rates, blood pressure and concentrations of cortisol. The effect is clearly one of stress reduction.
In another study (Morita et al 2007), 498 healthy volunteers were studied twice in a forest on the same day (forest day) and twice on a control day. This activity was evaluated using the Multiple Mood Scale-Short Form (hostility, depression, boredom, friendliness, wellbeing and liveliness) and the State-Trait Anxiety Inventory A-State Scale. Statistical analyses were conducted. Hostility and depression scores decreased significantly, and liveliness scores increased significantly on the forest day compared with the control day. Stress levels were shown to be related to the magnitude of the shinrin-yoku effect; the higher the stress level, the greater the effect.
In 2007 Japanese investigators also did an experiment to determine blood levels of various indicators of immune function, before and after forest bathing episodes (Li et al 2007). They checked out levels of natural killer cells and various anti-cancer proteins (perforin, granzymes and granulysin-expression in peripheral blood lymphocytes). Twelve healthy male subjects experienced a three-day/two-night trip in three different forest fields. On the first day, subjects walked for two hours in the afternoon in a forest field; and on the second day, they walked for two hours in the morning and afternoon, respectively, in two different forest fields. Blood was sampled on the second and third days. Similar measurements were made before the trip on a normal working day as the control. Almost all of the subjects (11/12) showed higher NK activity after the trip (about 50% increase) compared with before. There were also significant increases in the numbers of NK, perforin, granulysin, and granzymes A/B-expressing cells. Taken together, these findings indicate that a forest bathing trip can increase NK activity, and that this effect is at least partially mediated by increasing the number of NK cells and by the induction of intracellular anti-cancer proteins. So, this effect appears to be an improvement in immune system response and increased ability to respond to or prevent cancer.
Another study on immune response found an increase in white blood cell count in women exposed to forest air – the effect persisted for a week afterward (Li et al 2008). In another study (Li 2010) with 25 men and women, looking at immune response after forest bathing episodes of 2 hours for 3 days in a row, improved response was noted immediately after and it persisted when monitored one week and even one month afterward.
More studies are being done to further examine just what's going on and the extent of the effect. Some of these are looking at haemoglobin level changes in the pre-frontal cortex and fMRI indicators of brain activity corresponding to forest bathing and similar activities.
In looking into this topic I found an article in Outside Magazine by Florence Williams. It tells of her first-hand experiences in forest bathing in Japan's forests. I highly recommend it as a well-rounded and first-hand description of the experience. She's also the author of the acclaimed book, "Breasts: A Natural and Unnatural History".
Williams mentions some of the more recent research on forest bathing, especially in Japan, but also now in South Korea and in laggardly North America. The findings further support the beneficial effects. For example, Japanese researchers (e.g. Lee et al 2011) have been using field tests, hormone analysis, and new brain-imaging technology to uncover molecular level influences. They found that compared with urban walks, leisurely forest walks yield a 12.4% decrease in the cortisol, a 7% decrease in sympathetic nerve activity, a 1.4% decrease in blood pressure, and a 5.8% decrease in heart rate.
Williams also participated in a study on the effect of forest bathing on oxygen levels in the brain. The results of such studies are discussed further in "Your Brain on Nature", a book by Selhub & Logan (2012); excerpted in Mother Earth News (2013). They report on Japanese workers who used a device that reads oxygen use by red blood cells, Japanese researchers found that 20 minutes of shinrin-yoku (compared with 20 minutes in an urban setting) altered cerebral blood flow, specifically the total hemoglobin) was lower in the area of the prefrontal cortex while people were in the forest. Hemoglobin levels are notably higher in this part of the brain during periods of threat or stress and after intense mental and physical work. "So essentially, a decrease in levels means the brain is taking a time-out while in the forest." Williams has a similar observation, stating that when we are relaxed and at ease in our environment, our parasympathetic system—sometimes called the rest-and-digest branch—kicks in, stimulating appetite. This is why food tastes better in the outdoors. But the constant stimulus of modern life triggers our sympathetic nervous system, which governs fight-or-flight behaviours.
So what else may be happening here? Some think that the effect is at least in part due to the presence and beneficial effects on people, of "phytoncides", the airborne chemicals that plants emit to protect them from rotting and insects. According to Wikipedia, phytoncides are wood essential oils which are antimicrobial volatile organic compounds derived from trees, such as a-pinene and limonene. The effects may be the same or similar to those claimed in the field of aromatherapy. Of course, phytoncides can't explain the calming effects of looking at a picture or mindfulness meditation. Also, levels of phytoncides may be very low during winter or in certain types of forest.
A more complete perspective on what may be happening is described in an article in The Globe and Mail in 2012 (Hutchinson 2012). In addition to the effects of wood essential oils are possibly more important influences on how natural settings and even pictures of these, affect us. In one study conducted by Marc Berman of the Rotman Research Institute in Toronto (Baycrest News 2012), people suffering from clinical depression were found to have improved memory after taking 50 minute walks in woods (compared to those who walked in urban settings). Interestingly, the moods of all patients seemed to improve equally after either the forest or urban walks.
Berman suggests that the different effects may relate to two types of attention: "voluntary", where we consciously focus on something, and "involuntary" where something grabs our attention. This sounds a lot like the involvement of the sympathetic and parasympathetic nervous systems that Williams spoke about. The ability to direct voluntary attention is crucial in daily life but it's easily fatigued. Going for a walk in a park may give voluntary attention a break by allowing involuntary attention to be captivated by natural surroundings. The Globe & Mail article goes on to speculate on other related issues:
"In a lot of natural areas, you're away from loud noises and distractions …[and]… it tends to be less crowded so you don't have to worry about bumping into people, and it also has interesting stimulation to look at, which captures your attention automatically."
In contrast, honking horns and traffic lights and crowded sidewalks – and pretty much every other ingredient of modern life in a big city – constantly force you to exert your voluntary attention to react or block them out, leaving you more cognitively depleted.
All this makes it sound as if the benefits of nature are mostly in your head. It's true that simply looking out a window at nature or, to a slightly lesser extent, looking at pictures of nature scenes can produce some of the same effects. But the physical environment itself may also play a role….
Still, the fact that pictures of nature can produce cognitive benefits suggests that at least part of the effect is mediated by what we see. One simple hypothesis is colour: Nature scenes tend to feature more green than urban scenes. A more subtle possibility is that natural landscapes have more fractal patterns – a mathematical classification that describes the complex shapes of phenomena like coastlines, mountain ranges and broccoli florets – compared to the simple straight lines that characterize man-made environments.
"Maybe looking at these fractal patterns captures attention automatically, which leads to this more restorative process," Dr. Berman says.
Teasing out the key variables will take time – and ultimately, it seems unlikely that there's a single magical quality or essential oil that fully explains the call of the semi-wild. For now, it's enough to know that the benefits of exposure to nature are real and measurable. And in an increasingly distracting and distracted world, they're more important than ever.
In drawing this article to a close, I'd like to give credit to some of Graeme Gibson's comments from his book "The Bedside Book of Beasts" (2009). These comments are about why human beings are strangely disconnected from nature. He notes that have these remarkable brains which "live inside us like alien beings…[which have]… almost persuaded us that we have no debt to nature, that we owe it neither allegiance nor respect, let alone reverence." And again, he says that in our present day, people are behaving increasingly like ants and that "in exchange for the deeply mixed values of civilization, we've lost much of our elemental sense of belonging, along with the skills and sense of reference for nature that evolved during our long evolutionary past." And lastly, "If your instinct is to walk in a park or ravine when you're melancholy or frustrated, you've most likely chosen an effective remedy: healing, wholesomeness, and wholeness are related, and to heal ourselves individually and collectively, we need to begin by rejoining ourselves with the wholeness of nature."
Scientists are often blamed for taking the magic out of emotional experiences. But after the phenomenon of forest bathing is butted about, it is pretty clear that the net effect of forest bathing is above all an experiential thing. Getting out in the forest and bathing in its phytoncides or whatever else is out there to bathe the spirit in, is bound to make a lot of people feel happy and if I'm not mistaken, the life coursing through the newly awakening plant kingdom is be largely responsible for those feelings. Maybe we generate our own feelings of happiness but maybe, if we're honest with ourselves, just maybe both the visual manifestations and the phytochemicals released from the natural world bear more of the responsibility for our happiness than we dare admit.
We should not be too self-congratulatory about our expressions of happiness, ecstasy or anything else. We are gifted by this tilt and orbit which chance or Providence (whatever turns your crank) has granted us. Rejoice! Praise to the natural world which despite all, we are still a part of. Praise to the Universe with its fortuitous circumstances that allow us to experience the most wonderful of things – consciousness. But the pseudo-scientific examination of consciousness is the topic for a different discussion...
Although it didn't occur to me before writing this article, I have since noted some interesting synchronicities with the subject matter and some of the interests of the CYA and Violet Pasztor Wilson. They have an interest in forest bathing by seeking partners to establish Canadian Zen Nature Tours, which aims to foster government and private interest to establish sites where people can immerse themselves in a guided exploration of nature. Also, Violet is active in formulating and marketing pure essential oil products through her V-line. You're sure to find some interesting phytoncides in these products.
2013 Year of the Snake