March 19, 2012
WELCOME!!
Welcome to the first issue of the Canadian Yoga Alliance Newsletter. We are proud and excited to begin a new chapter in the evolution of CYA. This newsletter is for the Canadian Yoga Community and about the Canadian Yoga Community from coast to coast. As such, we welcome and encourage our readers to send in their thoughts, ideas, stories and pictures as well as to forward the newsletter on to others that may enjoy it but are not yet on the email list. We are also looking for regular writers and submissions from Yoga Schools or Businesses, so if you are one of these organizations or if you know of an organization, who would be interested in writing for us, please have them email me.
The Newsletter will come out four times a year as the seasons begin (Spring-March 20, Summer-June 20, Autumn- Sept 20 and Winter- Dec 20) and will also be available on our website in addition to a link on our Facebook page.
Coming up in the next newsletter: the Summer Solstice, Canadian Yoga Vacation destinations, as well as thoughts of how to take your Yoga with you on vacation. We will also look at one of the most widely known asana: Adho Mukha Svanasana (Down Dog). Be sure to watch your inbox for the next issue!
May the Spring season bring renewed spirits, renewed growth and an awakening from our winter's hibernation.
Namaste!
Michelle Dionne-Nisbet
Editor
PS: Please submit all contributions for the Summer issue by June 1 to: michelle.nisbet.cya@gmail.com
New Beginning

Spring Equinox is March 20th as the Sun enters Aries at 1:14am. It is the 'Day of Furze'. 3 Alder. The Second Station of the Year.
I draw the 'Raven' card as the Medicine Totem for this story of New Beginning. The Raven sends us a message from the Void, The Great Mystery from which the Great Spirit emerged. I contemplate the Medicine of Raven & how it correlates to the CYA & this time of Great Awakening. Raven states that there will be a change in consciousness. We have earned the right to see and experience a little more of life's magic. Perhaps CYA consciousness is about to expand? Raven's color is that of the Void- A black hole in space that holds all the energy of the creative source. The iridescence of Raven's Blue-Black speaks of the magic of darkness and a changeability of form & shape that brings 'New Awakening' in the process. Well, this is powerful stuff...
For Healing circles the medicine of Raven is present, guiding & dispelling disease or illness bringing the new state of wellness from the void of Great Mystery & the field of plenty. CYA is definitely about wellness & healing. Yoga flies like a Raven; healing & restoring the bodies & re-uniting students with the Great Spirit.
Raven is the power of the Unknown. Something special is about to happen. How will you respond to this time of New Beginning this Spring Equinox?
The Raven is a courier of intention. This Spring Equinox, burn some incense as the carrier of Raven medicine. Take the form of 'Raven/Crow' and let your intention soar magically to its destination from the Great Mystery. CYA is the Wing of the Raven, delivering a message from the Great Mystery to you.
Thank-you for reading and most of all…thank-you for sharing in all that you do!
YHVHOMISHVARA
Violet Pasztor Wilson
Canadian Yoga Alliance Founder
Spring Cleaning Rituals for Home and Body
Is it time for a bit of Spring Cleaning in your life?
For your home:
1) De-Cluttering: Clutter acts as a barrier to good fortune according to the ancient art of Feng Shui. Clear out and ridding yourself of all items that may be holding you back like knick knacks, pictures or old broken furniture associated with negative memories, thoughts or feelings.
2) Time to go through any old clothes, which symbolizes your ability to constantly re-invent yourself as time goes on. Donating them to charity is also a great way to practice Karma and the Yogic principle of Aparigraha or non-hoarding.
3) Clean your home to rid it of all the toxins that have built up over the cold winter months. Wash the walls, ceiling fans and the furnace. Go ahead and open those windows to air out the house and let in the fresh air. Might as well clean them too.
4) Hanging a broom above your front door is supposed to be a good luck charm that prevents bad energies from entering your life. Beneath it, hand a horse shoe, which keeps good energy from leaving your home.
For your body:
According to Ayurveda, which is often referred to as the sister science of Yoga, the key to good health is well functioning digestion and a sturdy elimination process. The following are a few of many wonderful practices:
1) Food: Eat local foods as often as possible and eat whole foods as often as possible. Don't overeat, and eat at regular intervals. Avoid eating late at night.
2) Liquids: drink lots of water, filtered is best. Avoid ice cold drinks, especially with meals. Sip warm water throughout the day. Water with lemon is great for cleansing as lemon is nature's natural cleaner.
3) Get enough sleep and take time every day to have silence and stillness. Exercise regularly.
4) Tongue scraping is an aid to digestion and for the health of the teeth and sinuses.
Yoga Asana for Detoxification:
1) Boat-Navasana: Irrigates Kidneys
2) Bridge-Setu Bandhasana: Squeezes toxins from the kidneys
3) Cobra-Bhujangasana: Stimulates digestion and elimination
4) Fish-Matsyasana: Balances adrenal gland functioning
5) Forward Bend-Paschimottanasana: Decongests abdominal organs
6) Knee Down Twist-Supta Matsyendrasana: Stimulates kidneys, liver, gall bladder, spleen and pancreas
7) Pigeon-Kapotasana: Revitalizes endocrine system
8) Wind Reliever-Pavana Muktasana: Relieves constipation, stimulates digestion and elimination

The 8 limbs of Yoga
The 8 limbed path introduced by Patanjali in the Yoga Sutras has been around for thousands of years and read by millions of people. Some say the path is a hierarchy of rules where you must start at the bottom and work your way up to the top, to enlightenment. Others believe it is like a road map and you can work on one or more paths at the same time. How do you see it? Do you have a story, thought or example you would like to share about this age old wisdom? Perhaps something on one of the Yamas or Niyamas? Email me!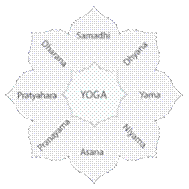 The 8 Fold Path
1) YAMAS: (5 Moral Restraints)
1. Ahimsa (non-Violence)
2. Satya (truthfulness)
3. Asteya (non-stealing)
4. Brahmacarya (moderation)
5. Aparigraha (non-hoarding)
2) NIYAMAS: (5 Observances)
1. Sauca (purity)
2. Santosa (contentment)
3. Tapas (zeal, austerity)
4. Svadhyaya (self-study)
5. Isvara Pranidhara (devotion to a higher power)
3) ASANA (8 postures)
4) Pranayama (Mindful Breathing)
5) Pratyahara (Turning Inward)
6) Dharana (Concentration)
7) Dhyana (Meditation)
8) Samadhi (Enlightenment)

Copyright 2012 Canadian Yoga Alliance. All rights reserved. (But please feel free to post it, quote it, think about it and forward on to others)